In celebration of Army Daze's 25th anniversary, the five recruits once again put on their No. 4s and commandeer the stage, this time with a female sergeant (Siti Khalijah) thrown into the mix.
Joining them is a sparkling team of talented comedians like Chua Enlai, Dennis Chew, Norleena Salim and Darius Tan, all of whom will be whipped into shape by a no-nonsense commanding of officer, director Beatrice Chia-Richmond.
Creative Team
Annie Pek Producer
Michael Chiang Playwright
Beatrice Chia-Richmond Director
Don Richmond Music Composer/Lyricist
Jeffrey Tan Choreographer
Goh Boon Teck Set Designer
Moe Kasim Costume Designer
Dorothy Png Lighting Designer
Shah Tahir Sound Designer
Elaine Chan Vocal Coach
Ashley Lim Hair Designer
The Makeup Room Makeup
Juraidah Rahman Production Manager
Chris Chua Technical Manager
Alycia Finley Stage Manager
Keira Lee Asst Stage Manager
Alisa Ang Asst Stage Manager
Geraldine Ang Asst Stage Manager/Props Mistress
Glenna Ng Wardrobe Mistress
Vivianne Koh Wardrobe Mistress
Goh Jin Kai Stage Assistant
Wei Feng Stage Assistant
★★★
Elaine Khoo Sales & Marketing
★★★
Mark Teo Photography
Jennifer Tan Programme Design
Cast
Dwayne Tan as Malcolm
Joshua Lim as Ah Beng
Ebi Shankara as Krishna
Shane Mardjuki as Kenny
Adi Jamaludin as Johari
Siti Khalijah as Sgt Khatib
Mina Kaye as Sgt Monteiro (swing role)
Chua Enlai as Cpl Ong
Andrew Lua as 2LT Heng
Dennis Chew as Mrs Png
Rebecca Spykerman as Lathi
Fervyn Tan as Ah Lian
Darius Tan as The Man
Ensemble/Soldier
Farhan bin Hassan
Fariz bin Sarib
Fazli bin Ahmad
Ferris Yao
Gino F Babagay
Malcolm Tai
Timothy Wan
Yang WeiCheng
A brief history into the enduring appeal of Singapore theatre's unlikely hero…
1987 The Debut
Directed by Lim Siauw Chong
Produced by TheatreWorks
Some bright spark convinced Michael that it would be a good idea to turn his humour book Army Daze into a stage play and so he did.  Using the super blur Malcolm Png as the central figure, he spun a lightweight comedy about five unlikely recruits who meet and bond during BMT (basic military training).
The full-length play, directed by Lim Siauw Chong and starring a 24-year-old Ivan Heng as Malcolm, made its debut in 1987.  It was a surprise hit, enjoying a sell-out season in June, which prompted a return run in August, again playing to full houses. The Straits Times proclaimed it "the most commercially successful made-in-Singapore play".
1990 Theatreworks' Retrospective of Singapore Theatre
Directed by Lim Siauw Chong
Produced by TheatreWorks
Three years later in 1990, the play was brought back to the Drama Centre for a three-week run as part of Theatreworks' Retrospective of Singapore Theatre.
As expected, it was another sell-out production.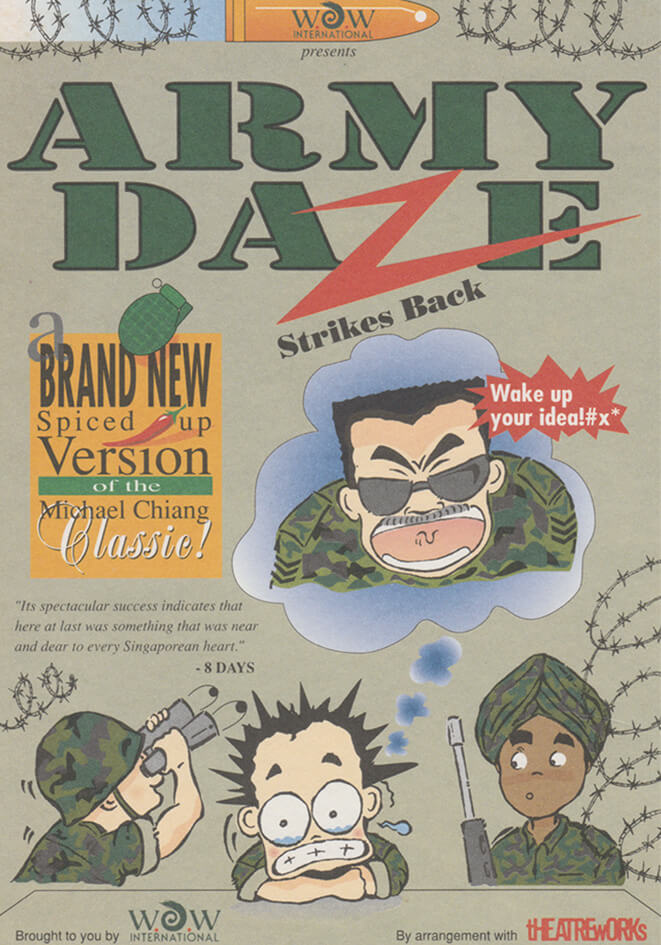 1994 Rerun
Directed by Lim Siauw Chong
Presented by WOW International
Produced by TheatreWorks
In 1994, the comedy was restaged at the World Trade Centre Auditorium (with Hossan Leong as Malcolm) and set in motion plans to turn it into a movie.
And why not? By this time, the Straits Times had declared Army Daze to be "virtually bomb proof"!
1996 The Movie
Directed by Ong Keng Sen
Produced by Cathay Asia Films
A year and $800,000 later, Army Daze: the Movie (directed by Ong Keng Sen) hit silver screens across the island, raking in a very respectable $1.6 million at the local box-office.
More than 15 years on, it continues to hold the record for thehighest cinema takings for a local English-language film.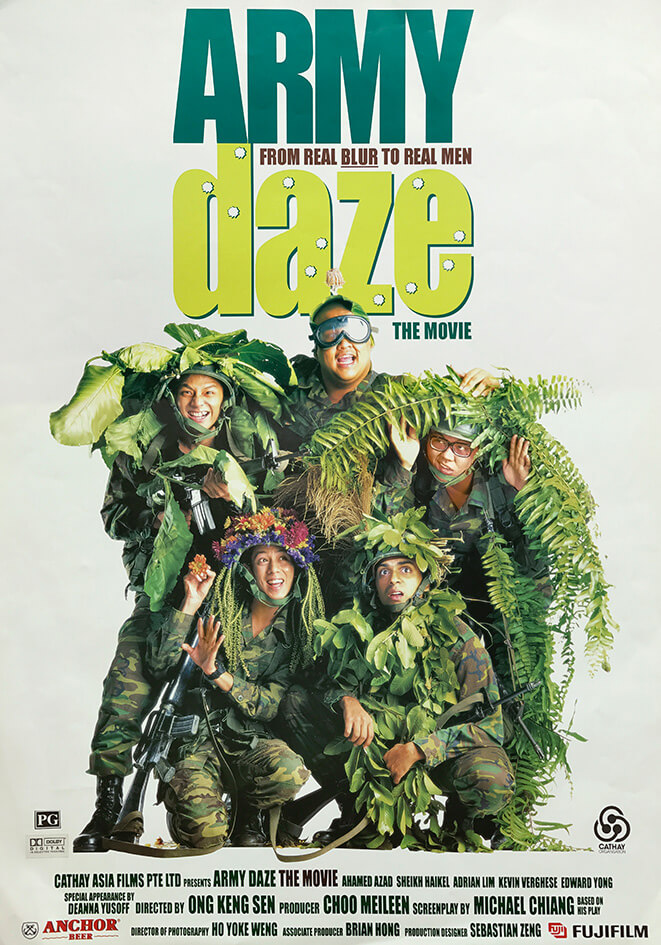 2006 Restaged by Toy Factory
Directed by Beatrice Chia & Goh Boon Teck
Produced by Toy Factory
The star-studded production featured Hossan Leong, Robin Goh, Sebastian Tan, Vernon A, Sheikh Haikel Selena Tan, Kumar, Emma Yong, Benjamin Ng, Mark Richmond, Gerald Chew and Lim Kay Siu.