This much-beloved musical, which has seen multiple stagings since its debut at the Singapore Arts Festival in 1988, traces the adventures of a small-town girl from Batu Pahat who sets out on a quest to find her father in Singapore. With a mysterious jade pendant as her only clue, she winds up in a dubious cabaret, where she learns some heartbreaking truths about love and life.
Directed by Dick Lee, this 'darker' revival features a revised script from the 2008 production and an exciting ensemble of talents from theatre and television. Top TV star Jeanette Aw sizzles as Lulu, the beautiful but vindictive cabaret queen, while Malaysian talent Cheryl Tan brings wide-eyed charm to the role of Ivy Chan, our innocent protagonist. Adding her touch of class to the mix is seasoned actress Janice Koh, appearing in her first musical as the wise and winsome Mummy.
Beauty World has always showcased theatre's best and brightest young talents! Whilst the plot remains unchanged, the comedy is as enjoyable as ever. And the 2015 production unveils a darker, more dangerous Beauty World.
Creative Team
Director Dick Lee
Playwright Michael Chiang
Composer & Lyricist Dick Lee
Producer Annie Pek
Musical Director Indra Shahrir Ismail
Choreographer Zaini Tahir
Assistant Choreographer Samantha Kan
Set Designer Wong Chee Wai
Lighting Designer Yo Shao Ann
Costume Designer Yang Derong
Hair Design Ashley Lim
Makeup Bobbie & Low Jyue Huey / The Makeup Room
Sound Designer Shah Tahir
Prop Designer Chan Lee Lee
Stage Manager Zhou Yongfa
Vocal Coach John Lee
Poster/Programme Designer Cheah Wei Chun
Promo Director Cheah Wei Khim

Cast
Ivy Cheryl Tan
Lulu Jeanette Aw
Mummy Janice Koh
Ah Hock Timothy Wan
Frankie Joshua Lim
Rosemary Frances Lee
Wan Choo Eleanor Tan
Rosie Cynthia MacQuarrie
Daisy Ethel Yap
Lily Tay Kewei
Towkay Tan Edward Choy
Towkay Neo Gordon Choy
Boss Quek Edric Hsu
Sgt Mustaffa Ali Anwar
Company
Melissa Gan, Millicent Wong, Nicholas Long, Nur Aslinda, Selly Marina, Syazwan Rahmad, Yang Weicheng, Chia Yee Shan, Yuhan Whitehead
Indra Shahrir Ismail Conductor
Aaron Goh Piano & 1st Keyboard
Anthony Kwah 2nd Keyboard
Joshua Tan Guitar & 3rd Keyboard
Felix Phang Bass
Jerry Tang Drums
Mohd Yziz Bin Mohd Hassan Percussions
Kenneth Lun Trumpet
Pisit Piriyaporn Trombone
Teo Boon Chye Saxophone
Crew
Chan Lee Lee Production Manager
Zhou Yongfa Technical Manager
Xu Xin'en Stage Manager
Lee Zi Chang ASM
Jeremy Toh ASM
Anne Lee ASM
Leah Sim Props Asst/Crew
Alethea Koh Crew
Chantel Goh Crew
Glenna Ng Wardrobe Mistress
Ong Shu Yu Alysia Asha Dresser
Jere Dresser
A look at the iconic production since it made its debut in 1988…
1988 The Debut
Directed by Ong Ken Sen
Produced by TheatreWorks
Beauty World is created for the Singapore Festival of the Arts by a team of arts stalwarts – playwright Michael Chiang, composer and lyricist Dick Lee, director Ong Keng Sen and choreographer Najip Ali – through a gruelling six-month rehearsal process.
Opening night sees an unfortunate power failure that cuts off the microphones for a harrowing half-hour, but actresses Jacintha Abisheganaden (Rosemary) and Claire Wong (Ivy Chan) adlib their way through the awkward silence and step offstage to offer Green Spot soft drinks to the audience!
While initial reviews weren't entirely favorable, the sold-out show is an unprecedented hit and is restaged two months later – for another full-house run.
1992 Japan Tour
Directed by Ong Ken Sen
Produced by TheatreWorks
Beauty World goes on a tour of four Japanese cities – Osaka, Tokyo, Hiroshima and Fukuoka – at the invitation of the Japan Foundation's Asean Cultural Centre. The production then returns for a sell-out season in Singapore.
1998 First Televised Musical
Directed by Ong Ken Sen
Presented by Television Corporation of Singapore
On 28th February, theatre and TV became one when Beauty World – The President's Star Charity went on air, allowing more Singaporeans to experience the charm and magic of Beauty World.
This broadcast included special performances by TV personalities like James Lye, Evelyn Tan, Huang Wen Yong, Vernetta Lopez, Fann Wong, Zoe Tay, Le Nanxing, Christopher Lee, Jack Neo and others.
The annual fund-raising event collected close to S$2.6 million by the time the performance ended!   
1998 The 10th Anniversary
Directed by Ong Keng Sen
Produced by TheatreWorks
After a phenomenal sold-out debut in 1998, the 4 original creative geniuses (Michael, Dick Lee, Najib Ali & Ong Keng Sen) came back together to present this star-studded 10th Anniversary stage run.
It ran from 16 – 26 April at the Victoria Theatre starring Sharon Au as Lulu, Darren Lim as Ah Hock, Jacintha Abisheganaden as Rosemary Joseph, Hossan Leong as Frankie, Neo Swee Lin as Wan Choo, Nora Samosir as Madame and Gurmit Singh as Sergeant Muthu.
To further mark its tenth year, the opening night was specially dedicated to the President's Star Charity.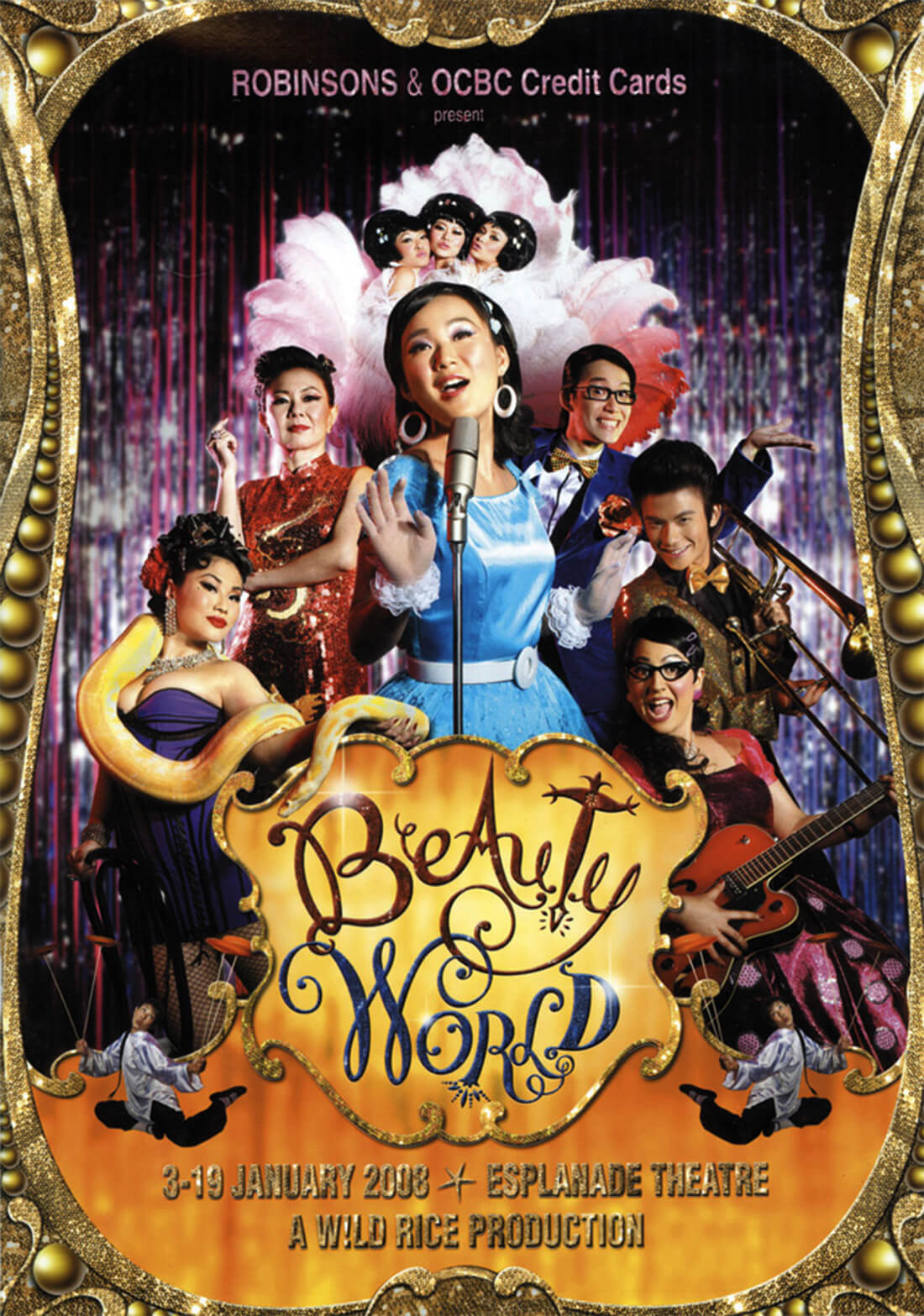 2008 The 20th Anniversary
Directed by Ivan Heng
Produced by W!LD RICE
For the 20th anniversary of the show, director Ivan Heng mounts a splashy $2.3 million production at the Esplanade Theatre that includes new scenes scripted by Michael and new songs composed by Dick.
A brand new cast, which features fresh theatre graduate Elena Wang as Ivy, adds even more sparkle to the extravagant show.
"Beauty World is back, and it's as big and bold as ever."
The Smart Local
"When it pendulums into local territory with Singlish banter, colloquialisms and archetypes from Ah Lians to aunties, it is a snappy, fun affair."
The Straits Times
"Jeanette Aw returns to the stage in a 'darker' Beauty World"
Channel NewsAsia
"…arguably local theatre's last big event for what has been a packed SG50 year."
TODAY